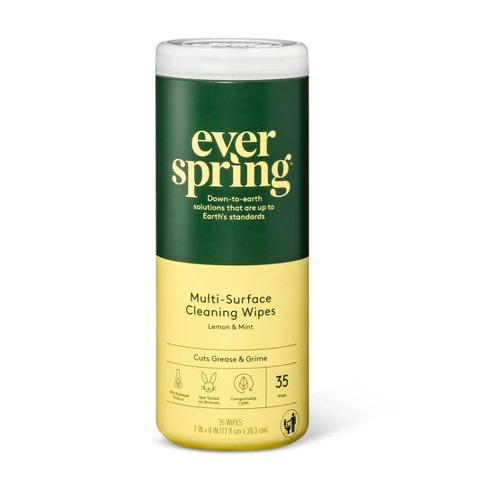 I'm pleased with Target's Everspring brand of cleaning products and paper products.
https://www.target.com/b/everspring/-/N-gl7n0#?lnk=snav_rd_everspring
To varying degrees, the cleaning products are plant based and biodegradable, which means they are much less harmful to the earth and the creature (INCLUDING US) that live on it.
The packaging is important. I'm on a packaging rampage. I want the products, but I don't want products to come in pollution.
Everspring purposely labels for packaging content. Everything I examined had a high content of post consumer waste or was made of 100% post consumer waste. This is good!
The paper products are made of 100% post consumer waste. That means that no trees were cut down so you can dry your hands, wipe your bum, or clean your counter. This is good!
Did you know that most cleaning wipes are made of plastic? These wipes then become that microplastics that will give us cancer when we drink water or eat fish.
THIS IS A COMPLETELY NEEDLESS AND SOLVABLE PROBLEM:
Buy cleaning wipes that are made of plant materials.
The Everclean wipes are good as any cleaning wipes I've used. They are made of 100% plant based material. They are compostable. The solutions what wets them is also plant based and biodegradable.
Compare this to Clorox wipes which are 100% pollution. Yes, they clean your counter, but are otherwise nothing but pollution, from the packaging to the cleaning solution, to the materials the wipes themselves are made of. POLLUTION.
Clorox makes Greenworks wipes, but the packaging in pollution.
With Everygreen wipes are a MUCH BETTER CHOICE for your health and the Earth.
**********************
*
PUT PRODUCTS PAGE
https://projectput.wordpress.com/put-products/
*
For more Eco Friendly Product Producers, check out:
Project PUT: Eco Friendly Products Pinterest Board